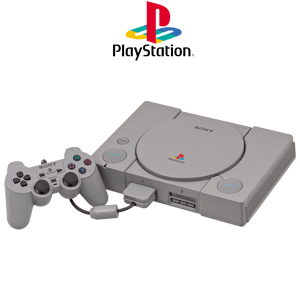 PlayStation Console

From Wikipedia
The PlayStation (officially abbreviated to PS, and commonly known as the PS1) is a home video game console developed and marketed by Sony Computer Entertainment. The console was released on 3 December 1994 in Japan, 9 September 1995 in North America, 29 September 1995 in Europe, 15 November 1995 in Australia, and for Korea in 1996. The console was the first of the PlayStation lineup of home video game consoles. It primarily competed with the Nintendo 64 and the Sega Saturn as part of the fifth generation of video game consoles.
The PlayStation is the first "computer entertainment platform" to ship 100 million units, which it had reached 9 years and 6 months after its initial launch. In 2000, a redesigned, slim version called the PSone was released, replacing the original grey console and named appropriately to avoid confusion with its successor, the PlayStation 2.
In 1999, Sony announced the successor to the PlayStation, the PlayStation 2, which is backwards compatible with the PlayStation's DualShock controller and games, and launched the console in 2000. The last PSone units were sold in winter 2004 before it was officially discontinued in March 2005, for a total of 102 million units shipped since its launch 10 years earlier. Games for the PlayStation continued to sell until Sony ceased production of PlayStation games on 23 March 2006 - over 11 years after it had been released, and less than a year before the debut of the PlayStation 3.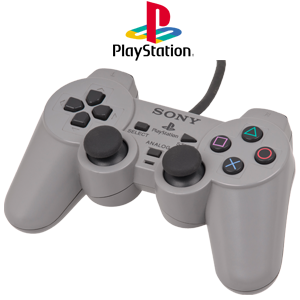 PlayStation DualShock Controller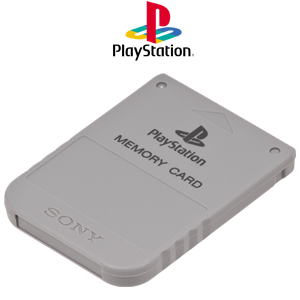 PlayStation Memory Card

58 games are compatible with the PlayStation Memory Card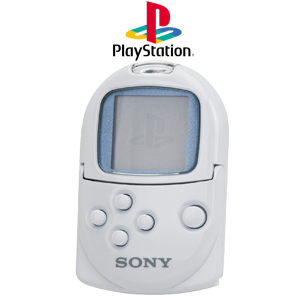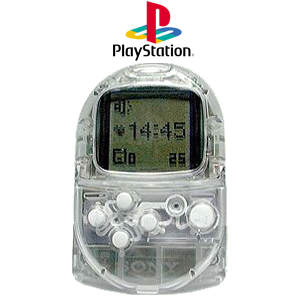 PlayStation PocketStation

Specifications
CPU: ARM7T (32-bit RISC chip)
Memory: 2K bytes SRAM, 128K bytes Flash RAM
Screen: 32x32 dot monochrome LCD
Sound: 1 miniature speaker (10-bit PCM)
Switches: 5 input buttons, 1 reset button
Infrared communication: Bi-directional (supports IrDA based and conventional remote control systems)
LED indicator: 1 (red)
Battery: 1 CR-2032 lithium battery
Other functions: calendar function and identification number.
Dimensions: 64 x 42 x 13.5mm (height x width x depth)
Weight: Approximately 30g (including battery)
From Wikipedia
The PocketStation is a Memory Card peripheral by Sony Computer Entertainment for the PlayStation home video game console. Categorized by Sony as a combination of a Memory Card and a miniature personal digital assistant, the device features a monochrome liquid crystal display (LCD), infrared communication capability, a real-time clock, built-in flash memory, and sound capability. To use the device's memory card functionality, it must be connected to a PlayStation through a memory card slot. It was released exclusively in Japan on January 23, 1999.
Software for the PocketStation was typically distributed as extras for PlayStation games, included in the CD-ROM, enhancing the games with added features. Stand-alone software could also be downloaded through the PlayStation console. The software is then transferred to the PocketStation for use. A built-in infrared data interface allows direct transfer of data such as game saves between PocketStation units, as well as multiplayer gaming.
The original Japanese ship date for the PocketStation was set for December 23, 1998, but it was delayed a full month. Sony only shipped an initial 60,000 units of the peripheral when it was released on January 23, 1999. It was initially available in two case colors: white and clear. It proved extremely popular, selling out all over the region. Sony planned to release the PocketStation outside Japan, engaging in promotional activity in Europe and North America, but the release did not occur. SCEA cited an inability meeting Japanese demand as the reason for the PocketStation's absence. A few games, such as Final Fantasy VIII and SaGa Frontier 2, retained PocketStation functionality in their localized versions.
The PocketStation's most popular game was Dokodemo Issho, which sold over 1.5 million copies in Japan and is the first game to star Sony's mascot Toro. The PocketStation was discontinued in July 2002 after having shipped nearly five million units.
On November 5, 2013, it was announced that the PocketStation would be revived as an application for the PlayStation Vita, allowing users to play PocketStation format minigames for any classic PlayStation games that they own. Originally it was only available to PlayStation Plus members, it was later released to the general public. It remains an exclusive to the Japanese PlayStation Vitas.
Compatible Games
All Japan Pro Wrestling
Arc the Lad III
Armored Core: Master of Arena
Battle Bug Story
Be Pirates!
Boku wa Koukuu Kanseikan
Brightis
Burger Burger 2
Chaos Break
Chocobo Stallion
Crash Bandicoot 3: Warped
Dance Dance Revolution 3rdMix
Dance Dance Revolution 4thMix
Dance Dance Revolution 5thMix
Devil Summoner: Soul Hackers
Digimon Tamers: Pocket Culumon
Dokodemo Hamster 2
Dokodemo Issho
Final Fantasy VIII
Fire Pro G
Fish Hunter
Gallop Racer 3
Grandia
Harvest Moon: Back to Nature
Hello Kitty: White Present
Hot Shots Golf 2
I.Q. Final
Jade Cocoon: Story of the Tamamayu
JoJo's Bizarre Adventure
Koneko mo Issyo
Kyro-chan's Print Club
The Legend of Dragoon (Japanese version)
Legend of Mana
Love Hina 2
Lunatic Dawn 3
LMA Manager
Metal Gear Solid: Integral
Mister Prospector
The Misadventures of Tron Bonne
Monster Race
Monster Farm 2
Monster World
Paqa
Pi to Mail
Pocket Dungeon
Pocke-Kano Yumi
Pocket MuuMuu
Pocket Tuner
Pop'n Music 2
Pop'n Music 4 Append Disc
PoPoRogue
Prologue
Racing Lagoon
RayCrisis (Japanese version)
Remote Control Dandy
R4: Ridge Racer Type 4
Rival Schools 2 (Shiritsu Justice Gakuen Nekketsu Seisyun Nikki 2)
Rockman Complete Works
SaGa Frontier 2
Saru Get You!
Shop Keeper
Spyro the Dragon (Japanese version)
Spyro 2: Ripto's Rage! (Japanese version)
Street Fighter Alpha 3 (Japanese version)
Street Fighter Zero 3 (Japanese version)
Super Robot Wars Alpha
Tales of Eternia (Japanese version)
Theme Aquarium
Tokimeki Memorial 2
World Neverland 2
World Stadium 3
Yu-Gi-Oh! True Duel Monsters: Sealed Memories
3 games are compatible with the PlayStation PocketStation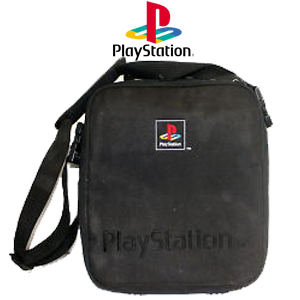 PlayStation Console Carry Case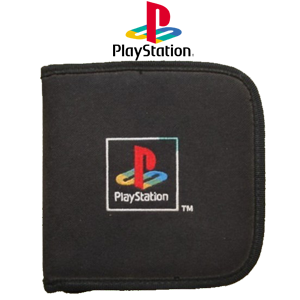 PlayStation Official CD Case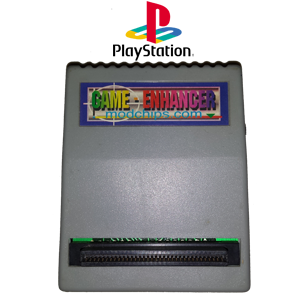 Game-Enhancer

Note
I received this "Game-Enhancer" from a friend just a few years back when he gave me all his old PlayStation stuff. Funnily enough, when I would have liked to have used it years ago to play my imported games I didn't have access to it and now I've purchased Japanese consoles to play those titles anyway so this is kind of an oddity in my collection. I feel it's an important thing to show though as these sorts of "mods" were common back in the day and it's neat to find out about them now.
WHAT IS A STEALTH GAME ENHANCER ?

Bust Open your games with the New Stealth Game Enhancer!
The Stealth Game Enhancer for the Sony PlayStation is a powerful game enhancement tool! Want to play back-up copies and imports? Want to have access to thousands of cheats for games - many of them impossible to attain using normal in-game cheat codes? You need one of these!! Infinite lives, faster lap times, invincible aircraft, hidden levels and many more possibilities are made easy using the Stealth Game Enhancer! Connecting to the parallel I/O port of your PlayStation, the Stealth Game Enhancer is ready for use immediately to help you bust every game wide open!!!
Once connected, you have access to the following functions:
Allow you to play your Back-up copies and Imports without the need for a soldered mod chip.
Game cheat system. Thousands of cheat codes for popular games come built in to the Game Enhancer, ready for you to select and use immediately.
Custom code storage. Using codes published on web sites on the Internet, in magazines and by other users, you can obtain new codes and enter them yourself. These are then stored after "Power Off" for use at any time in the future. Editing features included, so you can add, edit and delete codes as you wish to create a list of just the codes you use for your games.
A fully featured memory card management tool that allows you to copy saves, copy whole cards, format cards and even collect together saves and compress them for storage. Thus, your little-used saves or backup saves can be compressed down and stored in much less space.
Connector to allow you to connect your Stealth Game Enhancer to your PC, enabling many more functions and giving you the power to find and create your own cheat codes. This requires the optional PC Comms Link package.
Eliminates those slow annoying Sony boot up screens (White and Black Screens).

Why the New Stealth Game Enhancer instead of soldering a Mod Chip?
With the game enhancer you will NOT void your warranty. Why void the warranty on your PlayStation console because you installed a mod chip to play imports? Installating a mod chip is not for everyone, not only does it void your warranty from Sony, but also it can be tricky to install if you don't know how to solder. With the New Stealth Game Enhancer there is no soldering involved, and you'll be playing back-ups and imports in less than 5 seconds! There are many more advantages that the Stealth Game Enhancer has over the mod chip like: keeps warranty safe, plugs and unplugs in seconds, uses cheat codes, has a v-ram viewer, folder and file viewer, internal memory card manager, skips the white and black Sony screens and more!
Control every Game Enhancer Feature with TV screen controls.

Summary of the Game Enhancer
External Plug-in STEALTH MODCHIP DEVICE plays CD-R BACKUPS & IMPORTS!
Use any CD-R drive (CD writer) to make back-up copies of your games.
Game Shark and a Stealth Mod Chip contained in one amazing plug in unit.
Game Shark, Game Enhancer, Action Replay and Explorer cheat codes work in this device!
Cheat Codes allow - Infinite lives, Unlimited Energy, Hidden Levels, Secret Passages, Extra Scenes, Invincibility, Faster Cars, Programmers Secrets and so much MORE!
1000's of preloaded cheat codes. You can add more via your controller or Com-Link.
High speed com-port for Com-Link unit to download Thousands of codes off the net!
Allows you to play single and multi disk Imports too!
On Screen (TV) controls. Control Downloads, Cheats, CD Files, Memory Etc.
CD Viewer: Play any game movies (video clips), game music, sounds, graphics or FMV. View every CD file and folder on the game disc from your Playstaion!
Memory Card Manager - transfer saved memory card data to other memory cards!
Works in every 100x, 550x, 700x and 750x Dual-Shock model Playstations!
Plugs in and out in seconds! Completely portable - Fits in the Parallel I /O port of your Playstation!
Skips the White and Black Intro Screens. Faster boot ups & CD disks smoother!
Now you can own the NEWEST most POWERFUL device ever offered for the PlayStation!

How Does It Work?

Before you try and copy a Playstation CD, you must be aware that you can't just copy-and-play. It is critical that you understand the copy protection used inside the PSX, and what you must do to play copied CDs. Authentic CDs for the PSX have black bottoms, as compared to normal CDs with silver or gold bottoms. This is to distinguish authorized CDs from those made with a standard CD recorder. Despite the coloring, PSX CDs can be read in any PC or Mac CD-ROM.

The black CDs are made with special recorders made by Sony, which are able to write special CDs (through the use of bad blocks). Bad blocks are segments of data on the CD which have been marked as invalid. Normally, you do not want these on a CD as any data which is located in a bad block is lost. Because of this, all consumer CD recorders are designed to correct bad blocks when they read them before writing them to new CDs. Only Sony's special development recorders will re-write these bad blocks on new CDs, and these cannot be purchased. Understanding bad blocks is the key to understanding the Playstation's copy protection scheme.

When the PSX boots up, it performs two checks on the CD inside the PSX. One of these checks looks for the country code, which tells the PSX what country the CD was created in. If the code matches the code that is located in the PSX BIOS (Basic Input/Output System), the boot procedure will continue. For example, a Japanese CD is not playable on a US Playstation because of the country code check. The second check looks for bad blocks at certain locations on the CD. Since only Sony's CD recorders can produce these, the presence of bad blocks tell the PSX that the CD is authentic. If they are not there, the PSX halts the boot process.


Will my Stealth Game Enhancer / Game shark / Action Replay / Modshark work with
a Mod Chip?

Yes! However you will need to follow the following procedure to boot your games.

1. Open the lid, put the cd in the unit, leave the lid open.

2. Turn on the playstation.

3. Pick whatever cheat codes you want to use.

4. Close the lid and press the button to start the game within 1-2 seconds of closing

You must do this procedure because the units like the Game Enhancer / Game
Shark take over the boot process and since the Stealth Mod Chip must go into Stealth mode in order to beat the new protection you must tell the chip to wake up before you tell the game to boot.
---
The STEALTH GAME ENHANCER is an 'upgrade' that allows you to use CD's from every country in every format possible. Play the import titles from America, Europe or Japan on your Playstation! Now it's also possible to use your personal back-up CD's (CD-R's) and import CD's. Fast and easy to install! Compatible with U.S. and European Sony PlayStation models - 100x/550x/700x/750x PAL/NTSC!

NOTE: Will not work with the 900x, PSone or PS2 series PlayStations.